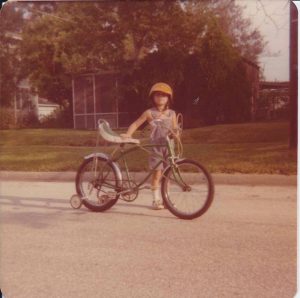 Bicycles and polio have been a huge part of my life. My dad is a polio survivor, being diagnosed with polio in 1945 at the age of 4. He spent a year quarantined in Hope Haven Hospital in Jacksonville, FL. Because of polio, my dad has extremely limited use of his right arm. As I was growing up in the 1970s, while polio was not something many of my friends knew about, it was very real in our home.
In the 1960s, my dad and grandfather operated the "Golfair Bicycle Store." Multi-speed bikes were new and very popular. Our garage was full of bicycle parts as well as bikes that were never picked up by their owners. Several of my first bikes were "frankenbikes," the result of combining what spare parts were available.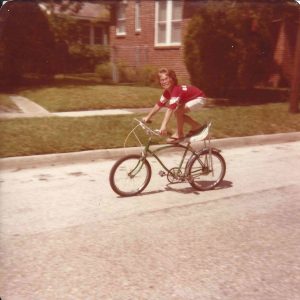 I remember working with dad to create one of these frankenbikes when I was in 5th grade so I could participate in a local bike race. I had competed in the single speed division of the race many times before and never finished anywhere near the front. Dad had an idea to take a lightweight 10-speed frame, add drop handlebars and gear it as high as possible. The result was a highly geared single speed bike that was difficult to pedal at first, but once the wheels were spinning the bike would fly.
The race was a 2-lap event at a local junior college. After the first lap I was at the back of the pack but my RPMs were really starting to pick up. I started picking off folks ahead of me as I navigated through the pack. Just before the final turn to the finish line I saw the leaders! I put my head down and pedaled as hard as possible. The finish was extremely close, but after a few minutes conferring, I was declared the winner!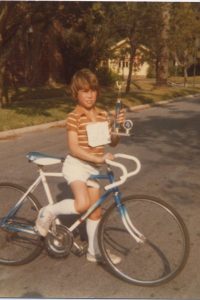 Now to fast forward 35 years. This year is an incredible year of convergence for Rotary and for me personally as Governor of Rotary District 6970. The Rotary Foundation is celebrating 100 years of doing good in the world. Most importantly, my father will be accompanying me to Tucson, AZ where we will once again celebrate our passion for bicycles as we finish polio. Just like that bike race in 1980, Rotary has built incredible momentum since the End Polio Now campaign started and it is up to us to finish strong.
Want to be a part of the effort to eradicate polio? Sponsor the Zone 34 All Stars in the Rotary Ride to End Polio:
I look forward to my dad seeing the end of polio in his lifetime.